The weather in Santa Barbara was bizarre in the winter of 2023. For the first time, many current UCSB students (like the author herself) were awed by the snow covering the evergreen" Santa Ynez mountains in the usually mild and temperate Southern California Coast. Nevertheless, the UCSB students were also afflicted by incessant rainfall and storms during the Winter quarter. In response to the winter storm, UCSB made two adjustments to its academic schedule: The university canceled all in-person classes on January 9-10 and March 14. However, it was not the first time winter storms struck Santa Barbara. Just 25 years ago, an even more severe one caused significant losses to the campus and its surrounding community.
El Niño caused the winter storm in 1998. A warm and negative phase of the El Niño–Southern Oscillation, El Niño is warming the ocean surface in the central and eastern tropical Pacific Ocean. As temperature and pressure system changes occur, the low-level surface trade winds, which generally blow from east to west along the equator, either weaken or start blowing from the other direction. As a result of this natural phenomenon, the warming causes a shift in the atmospheric circulation that causes rainfall and tropical cyclone formation to increase over the tropical Pacific Ocean. Due to the increasing effects of the climate crisis, El Niño events have been more frequent than before.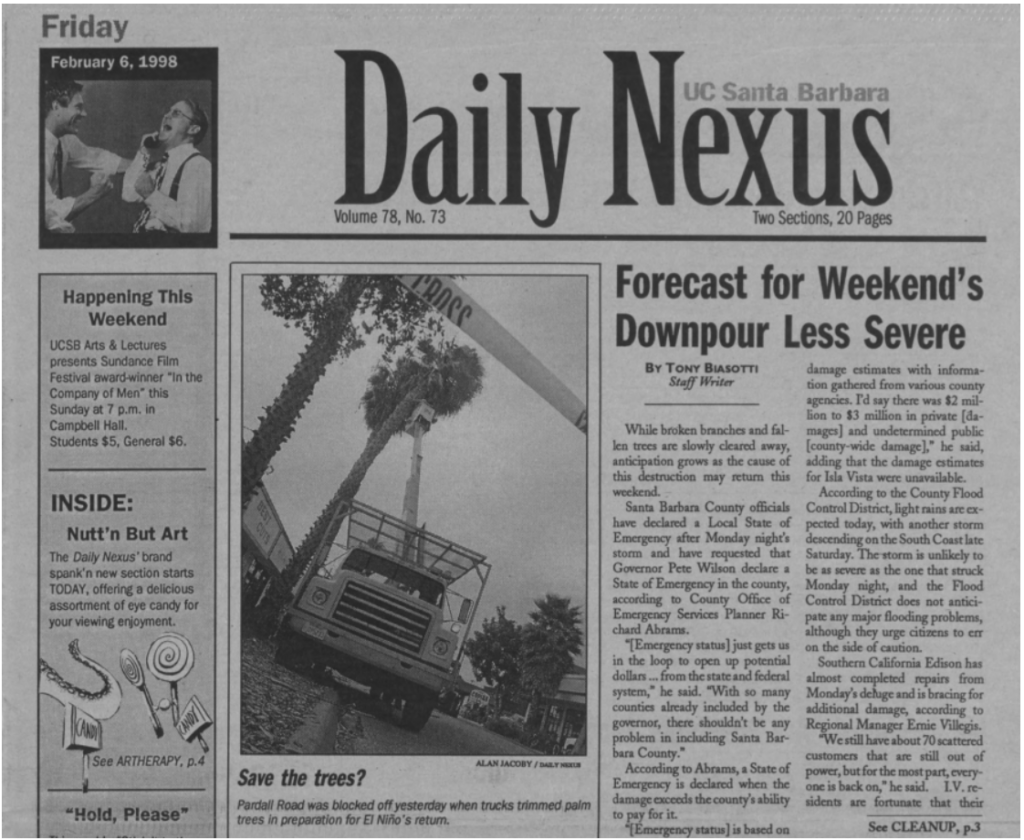 In 1998, El Niño was even more severe than in previous years. It had been the culprit for tens of flooding events on the West Coast and Southeastern Coast, such as Florida and New England regions. Heavy rainfalls in Santa Barbara started in early February. Heavy 45-60 mph winds thrashed California's coastal and valley regions; rain in Santa Barbara hit 3-6 inches; and broken branches and fallen trees obstructed traffic. The deluge of flooding also disrupted electricity supplies Residents braved the flooded downtown streets, attempting to clean up the debris left behind in the aftermath of the recent storms.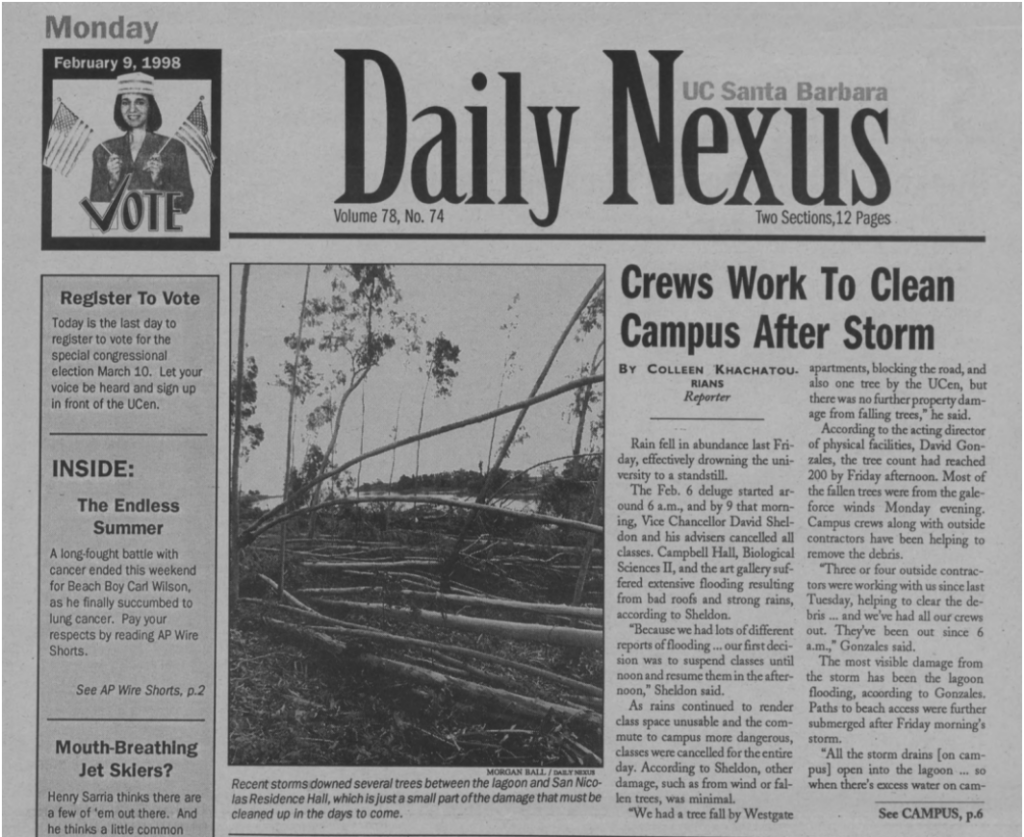 The UCSB campus and its college town, Isla Vista, also suffered from the winter storm. On February 6, Vice Chancellor David Sheldon announced the classes' cancellation. Several buildings, including Campbell Hall, Biological Sciences II, and the art gallery, suf­fered extensive flooding resulting from susceptible roofs and heavy rains. About 200 trees and shrubs fell during the storm period. Paths to the beach were submerged, and the water level in the lagoon swelled and became incredibly dangerous. In Isla Vista, housing units on Sabado, Trigo, Camino Majorca, and Del Playa flooded. According to Derek Johnson, the general manager at Isla Vista Recreation and Park District, 31 trees went down, 8 cars were damaged, and it would take about $7,000 for the management team to trim and clean up the trees' debris. A large eucalyptus tree fell, and about 100 people, mainly Spanish-speaking families, were evacuated from Isla Vista and relocated to the Goleta Valley Community Center.
El Niño's final blow came on February 23-24 as heavy rain hit Montecito. All the major creeks overflowed, and houses along San Leandro Lane, Veloz Drive, Santa Rosa Drive, and Olive Mill Road experienced flooding.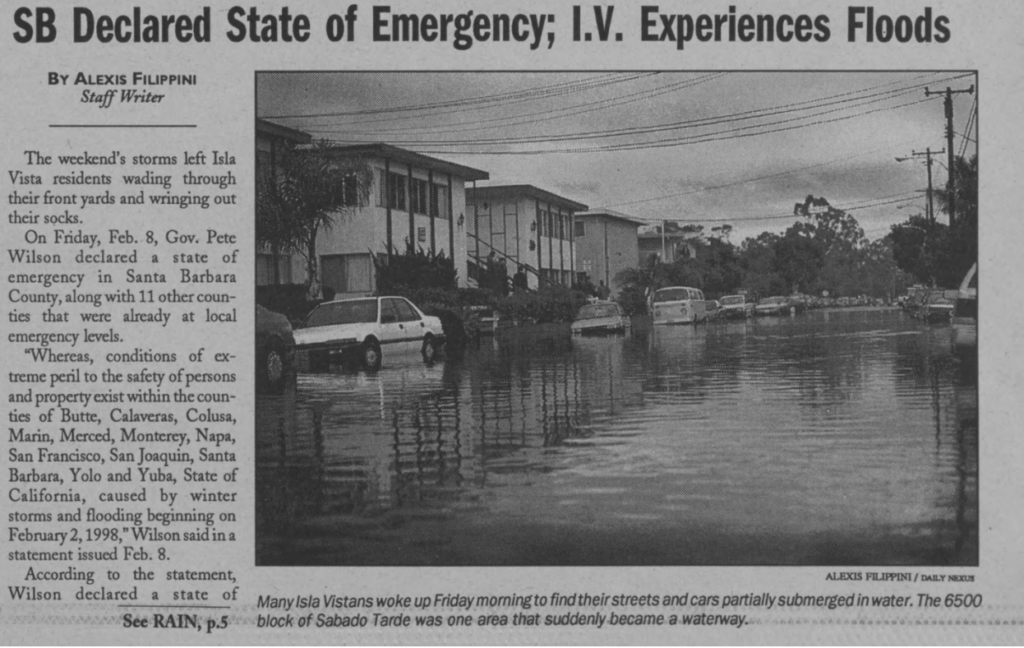 When I met Ryan, a Santa Barbara native who had lived in the city for 30 years, during an Uber ride, I asked him if he could remember anything from the 1998 Flood. He responded, saying, "…things are quite different …In those days, classes were canceled because of the bad weather, and there was no remedy. But now, with new stuff like Zoom and the internet, students could continue their study amidst these natural challenges."
It is interesting to see how we are sometimes confronted with the same dilemma: deteriorated climates and natural disasters. However, as society has advanced, new technologies have assisted people in coping with these problems.
"One thing I forgot to mention. The students in Isla Vista were driving boats to the Salmon Creeks when the university canceled all the classes. The college students were just as crazy as they are right now," Ryan told me before I left his car.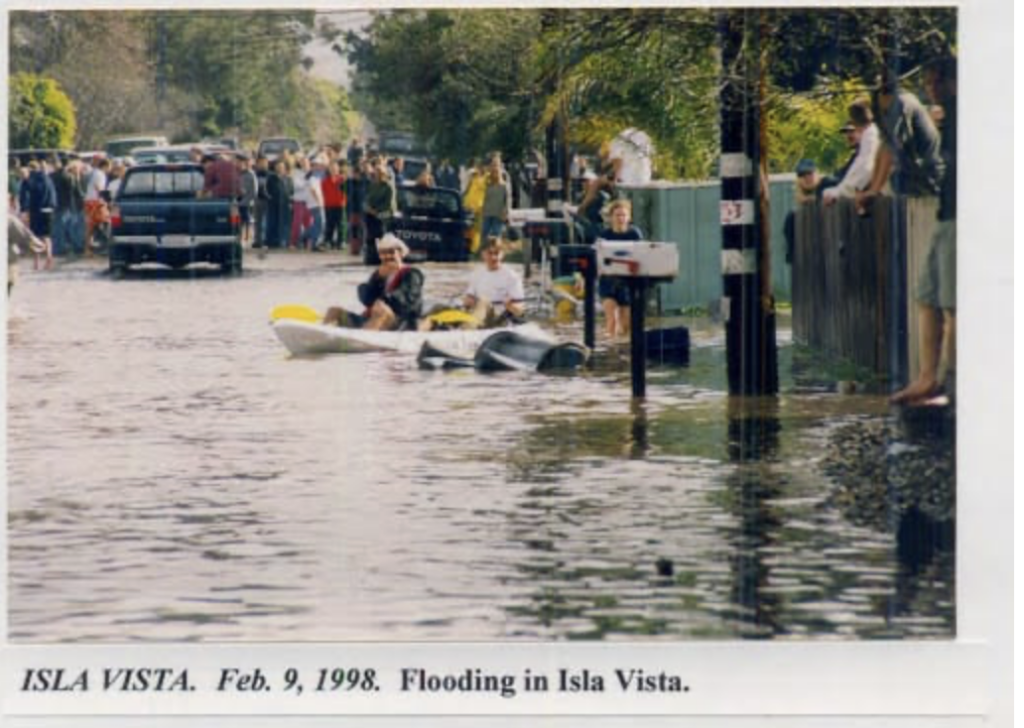 ---
Keren Zou. Keren is a senior undergraduate student at UCSB, triple majoring in History of Public Policy and Law, Asian American Studies, and Geography. Her research interests include American Race & Immigration History, nineteenth-century U.S. History, and Food History. Keren plans to pursue a doctoral degree in History. Besides researching and working as a student journal editor, Keren enjoys cooking, gardening, and traveling with her friends.