On Leap Day (February 29) of 1968, a year etched in Americans' memory as one of turmoil, featuring heightened resistance against the Vietnam War in particular, the chemical corporation Dow Chemical made an attempt to recuit future employers from UCSB that was intertwined with the politics of Vietnam. Let us see what happened!
Understandably, a multinational corporation like Dow Chemical would have great troubles fishing for future employees in left-wing, anti-corporation environments like university campuses. UCSB started the year of 1968 witnessing nine participants of a sit-in against Dow Chemical back in December 1967 to undergo hearings and receive punishments. After a day-long meeting on January 3, the Associated Students Judicial Board issued suspended suspensions to four of the nine participants, while the others received censures and warnings. If the penalties were meant to be any deterrence, then they failed. Seven students told El Gaucho reporters "Yes, we would do it again!" And oh my they would have another shot, as the evil chemical megacorp would not bow down in front of some clamorous little ants like student protesters either!
Weeks later, the Dow Chemical recruiters paid another visit to the campus on February 29 and found the resistance to be more organized and large-scale. Indeed, planning commenced two days before the scheduled visit, and faculty and staff joined the students to protest against not only Dow's contribution to the Vietnam War but also its investment in the apartheid South Africa.
Watch the kaleidoscope of people at the Dow recruitment venue! The faculty-staff protesters were the most civil and restrained among all. They paraded around the interview site in silence, and everyone limited their actions within what was allowed in their own codes of conduct. Their passion was hidden in the banners they held, such as this ingeniously inflammatory one:
When Napalm is spread on a man
He cannot brush it from his body.
He is charred.
When Napalm is spread by a man
He cannot brush it from his soul.
He is charred.
Napalm is hot and sticky petroleum that was contained in many bombs dropped in Vietnam. One of the protesters burned a substitute of napalm as an act of resistance. Whether the person was faculty-staff or student was not mentioned, but it was likely a student, since it would be an aberrant act for a faculty or staff member. What most students did was to clap and chant in chorus. One of them tried to go into the interview site to further disrupt the recruitment process, but he was manhandled by the police, and the scene even got called out by other protesters as police brutality! Last but not least, there were also students supporting the Vietnam War on the scene. They did not come into face-to-face conflict with other protesters, or else it would be an even wilder day!
Seven of the nine sit-in protesters from December 1967.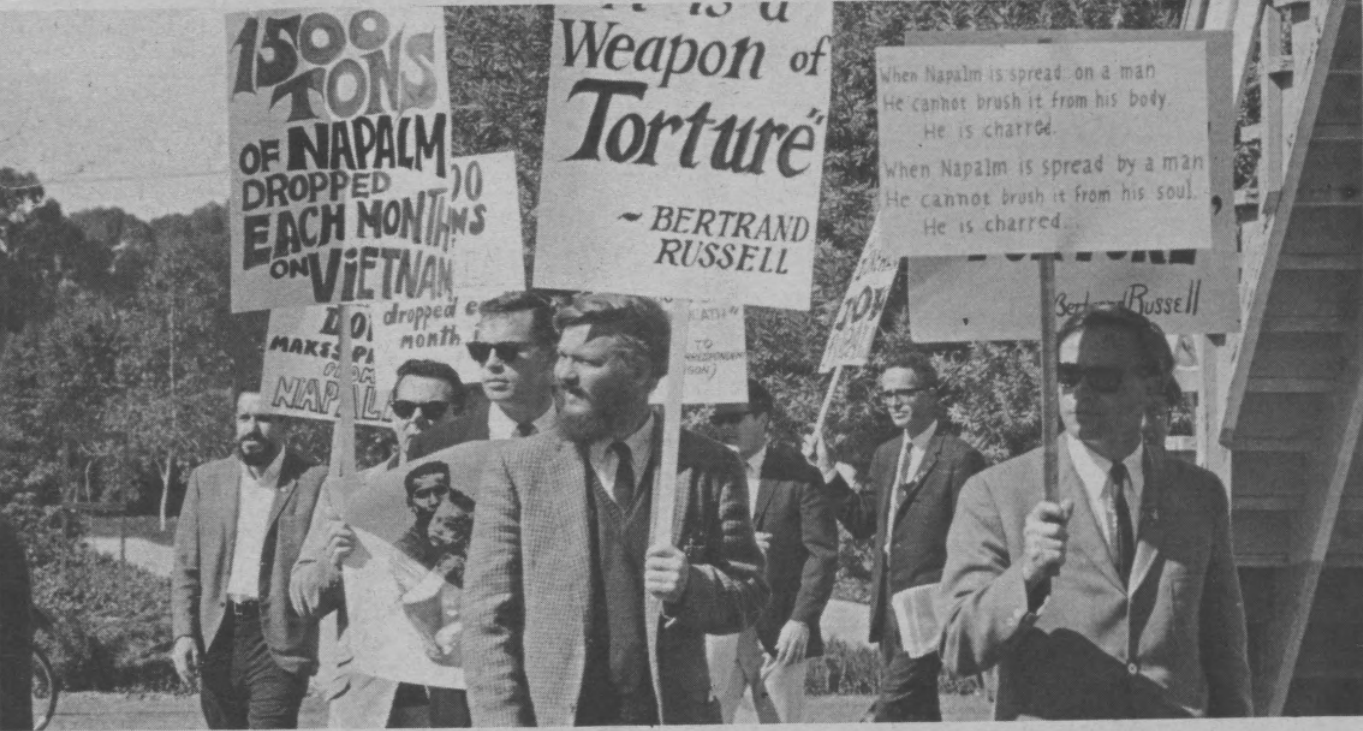 ---
Philip Tian is in his fourth year at UCSB, majoring in History and Sociology. Besides the courseworks, he likes playing bridge, listening to classical music, and learning foreign languages.
Sources of stories
Report of penalties to sit-in students: 8 Jan 1968 El Gaucho
Report of "planning commenced" against another Dow visit: 27 Feb 1968 El Gaucho
Report of the protest scenes: 1 Mar 1968 El Gaucho